Referenze
Master Craftsman Maurizio Feliziani: Primus Hotel Sidney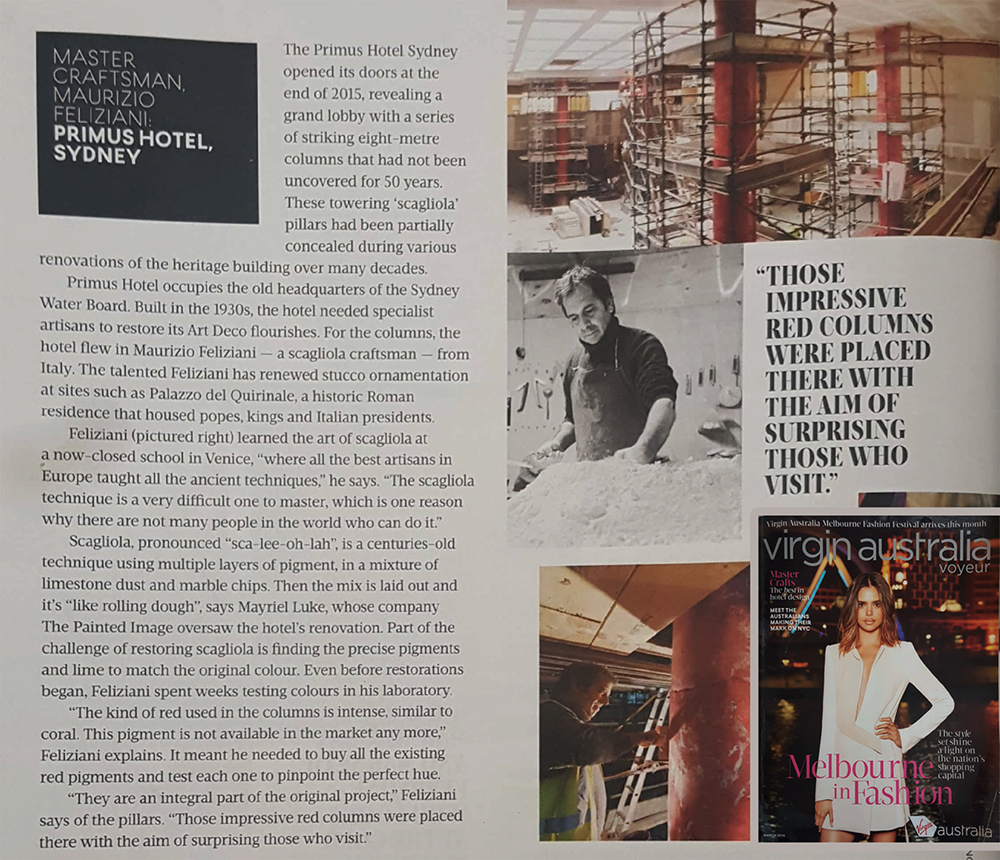 What it is and where can you find it at Primus Hotel Sydney?
By Benjamen Judd
One of the most striking features of the Primus Hotel Sydney is, without a doubt, the soaring eight-metre-high scagliola columns. Uncovered in full for the first time in 50 years, the pillars had been partially concealed throughout a number of renovations that the site had undergone throughout the years.
As a heritage feature of the site, restoring the pillars required design firm Woods Bagot to track down one of only two men in the world who had the artisanal skills bring them back to life.
Scagliola is an ancient technique created using layers of pigment blended in a mixture of limestone dust and marble chips. Scagliola is an incredibly difficult process to master, let-alone perfect, which has seen the number of craftsmen trained in it dwindle over time.
Italian master craftsman Maurizio Feliziani learned scagliola in Venice, where "all the best artisans in Europe taught", and had previously worked on some of Rome's most important sites, including the Palazzo del Quirinale – a historic Roman residence that has been the home to popes, kings and Italian presidents.
After being brought on to the project, one of the biggest challenges Feliziani faced was recreating the specific red that was originally used. Even before restorations had officially begun, he had been working for weeks in his laboratory testing colours and pigments. "The kind of red used in the columns is intense, similar to coral," Feliziani explained. "This pigment is not available in the market any more." This meant buying up all existing red pigments still available and testing each one, tweaking them, until the right hue was pinpointed.
Feliziani's work ultimately speaks for itself, with the beautifully restored eight columns perfectly accentuating the expansive space of the foyer in the Pitt Street Hotel.
To enjoy and experience this amazing architecture, and indulge yourself in 5 Star luxury, come in and experience the Wilmot Restaurant.